Laundry's management and traceability
ChronoMEDIC is a medical complete management and traceability solution who guarantees the respect of your control procedures.
Other ChronoMEDIC modules
Subscribe to an interactive presentation today.
Subscription
The Linen Distribution Solution According To The Specific Quotas Of Each Customer.
The ChronoMEDIC traceability solution for the laundry room facilitates the control of dirty linen received at the laundry room. It also assists the employees in the distribution of clean laundry according to the specific quotas of each location of the hospital and also allows the reprocessing of resident's linen for CHSLDs.
BENEFITS OF THE MANAGEMENT MODULE FOR THE LAUNDRY ROOM
Quota carts assembly sheets are always up-to-date ;
Traceability of quota cart and resident's linen by RFID chips ;
Prevention of costly errors by managing unwanted components (such as gel bags) ;
Ease of obtaining statistics and indicators such as dirty weight per period ;
All transactions are recorded in system logs that can be viewed at any time ;
Each employee must identify himself to access the system. Production is under control and the manager knows what has been done and by whom.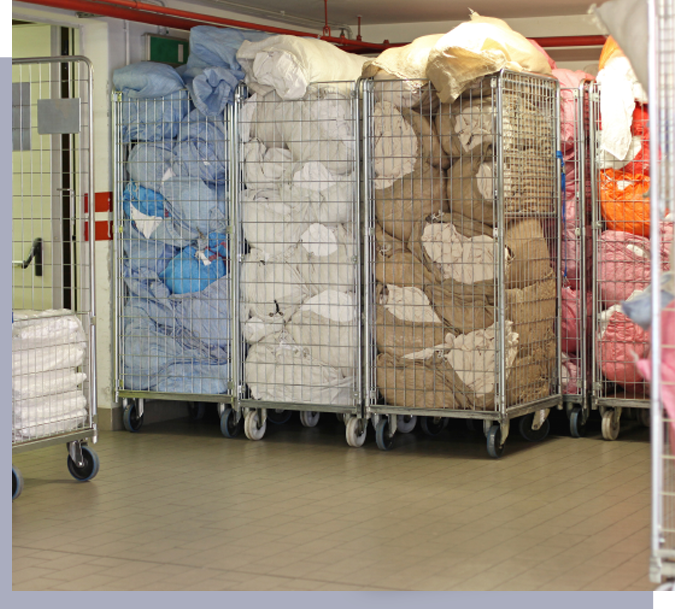 Download the printable version of this module.
Download
The ChronoMEDIC Laundry Management Module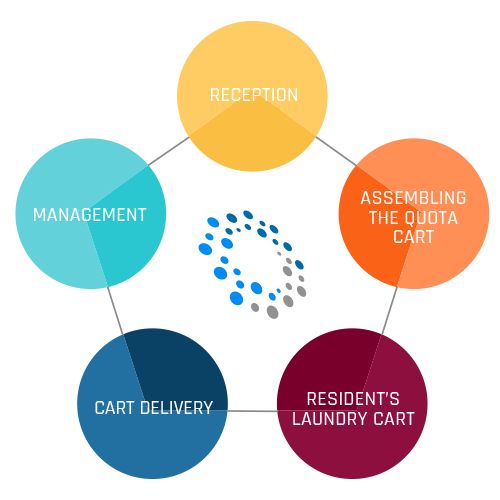 Keeps track the weight of each reception per customer ;
Keeps track of all the resident's linen received ;
Identifies unwanted components to be removed before washing.
Displays the updated list of needs for each location ;
Displays the cart destination ;
Allows the printing of the cart assembly sheet ;
Allows the assembly of the quota cart.
Displays the resident's informations ;
Confirms the reprocessing of laundry in the laundry room ;
Displays in which cart each resident's linen must be deposited ;
Identifies the last checkpoint of the resident's linen.
Allows to obtain a precise list of the carts to be delivered to each customer ;
Allows you to provide your customers with a detailed list of the contents of their carts ;
Lets you know when each cart has been shipped and for which client.
Keeps a history of dirty receptions ;
Keeps a history of deliveries ;
Allows to trace if : when a piece of resident's linen was received at the laundry and when it was returned to the resident ;
Allows viewing of production reports by period.
General benefits of the ChronoMEDIC system
Methodological and quick implementation;
Decrease in operational costs and self-financing of each module;
Intuitive system facilitating day to day work with simple to understand and easy to use work tools;
Modular, flexible and adaptive solutions that allow optimal operation with the processes of your hospital center;
Direct contact with the designer and programmers;
Support of a medical team that understands your reality.
25 years of bringing tangible results with our solutions.