Medical devices' management and traceability
ChronoMEDIC is a medical complete management and traceability solution who guarantees the respect of your control procedures.
Other ChronoMEDIC modules
Subscribe to an interactive presentation today.
Subscription
Improve your overall quality controls and your reprocessing performance.
The ChronoMEDIC tracking solution for the M.D.R.D. / SPD allows the management of the tray production cycle from the decontamination of the medical device (MD) to the link to the patient.
MEDICAL DEVICES MANAGEMENT MODULE ADVANTAGES
Easy research and location of the set ;
Quality control of sterilization and management of set recall ;
Sets conformity with control of its content quantity, order and position and label printing that displays missing medical devices in the assembly ;
Lists, stats and reports on number of utilizations, repairs, productivity, etc. ;
Quick and efficient communication between the OR and the MDRD/SPD and within the MDRD/SPD.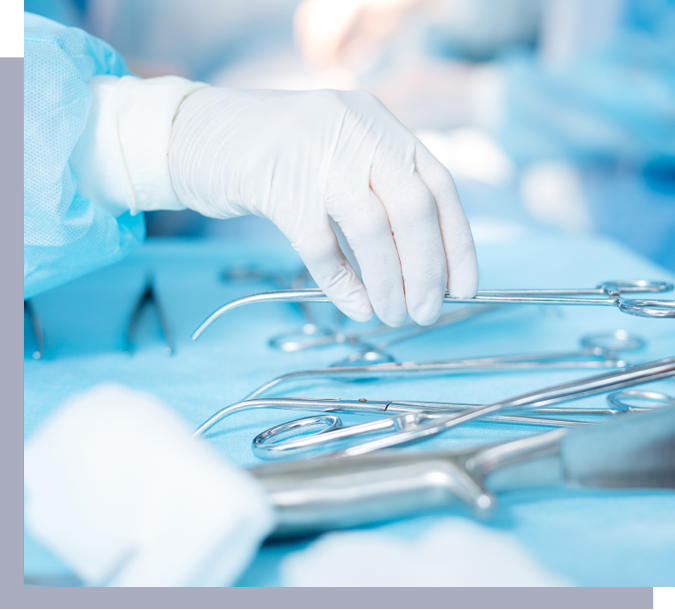 Download the printable version of this module.
Download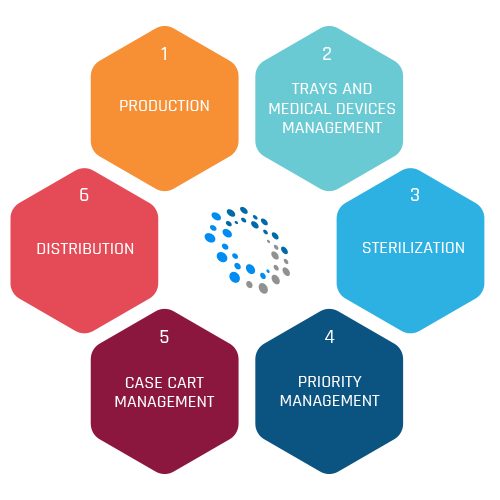 MD initialization (establish a connection between the serial number and the type of instrument) ;
MD decontamination and washing with procedures and multimedia support ;
MD inspection, quality control and maintenance ;
Tray assembly, by level, with content validation and pictures allowing for :

MD substitutes
Critical instruments
Implants use and refill management
Owner management

Tray sterilization parameter validation preventing MD destruction ;
Sterilizer periodical maintenance, according to the schedule planned ;
Delivery of the trays to customers after sterilization validation ;
MD repair shipping and return with quality control ;
History review : decontamination/washing, trays and MD, distribution, repairs, etc. ;
Share information with the other users of ChronoMEDIC.
Properties definition of each MD and tray ;
Tray technical sheet content listing including substitutes and critical instruments ;
MD maintenance planning ;
Production instruction with multimedia support ;
Various reports : MD and trays lists, statistics and histories.
Schedule the maintenances of sterilizers and review the history ;
Definition of compatibility between sterilizers, formulas and trays ;
Elaboration of quality control questionnaires ;
Review the detailed history of sterilization carts and loads ;
Report printing : lists, productivity, maintenances, tray recall, etc.
Each tray technical sheet is defined with a particular reprocessing priority. With the priority management module, the OR can also fast track one or several trays when needed. All through the MDRD/SPD, the technicians will be aware of the new reprocessing priority defined for those sets.
The optional case cart assembly management module allows the use of an electronic version of the pick list to assist the technician in the case cart preparation. The technician can use a regular or portable computer and a wireless scanner to prepare all case carts.
The tray distribution menu allows to validate where your trays are sent through your hospital or remote clients. This also allows you a quicker response time in case of recalls.
General benefits of the ChronoMEDIC system
Methodological and quick implementation;
Decrease in operational costs and self-financing of each module;
Intuitive system facilitating day to day work with simple to understand and easy to use work tools;
Modular, flexible and adaptive solutions that allow optimal operation with the processes of your hospital center;
Direct contact with the designer and programmers;
Support of a medical team that understands your reality.
25 years of bringing tangible results with our solutions.