Software package for management and traceability of manufacturing production.
ERP / MRP system
N.B. Automation offers specialized solutions for the traceability of your processes and for the quality control of your production.

Inscrivez-vous dès maintenant à une présentation interactive.
Inscription
A complete management and traceability solution that ensures respect and optimization of manufacturing production processes.
The AutoFAB management and traceability system is designed to facilitate the execution of daily work tasks and to ensure compliance with each of the manufacturing production procedures
Designed specifically to meet the requirements of manufacturing companies, the AutoFAB management and traceability system is modular. Each of the specialized modules is configurable and integrates quickly into your work environment.
In addition to ensuring the compliance of your operations, reduce your errors and accelerate your productivity, the AutoFAB manufacturing management and traceability system results in a significant reduction in operational costs.
BILINGUAL, FLEXIBLE AND CONVIVIAL, AUTOFAB WILL REVOLUTIONIZE YOUR BUSINESS!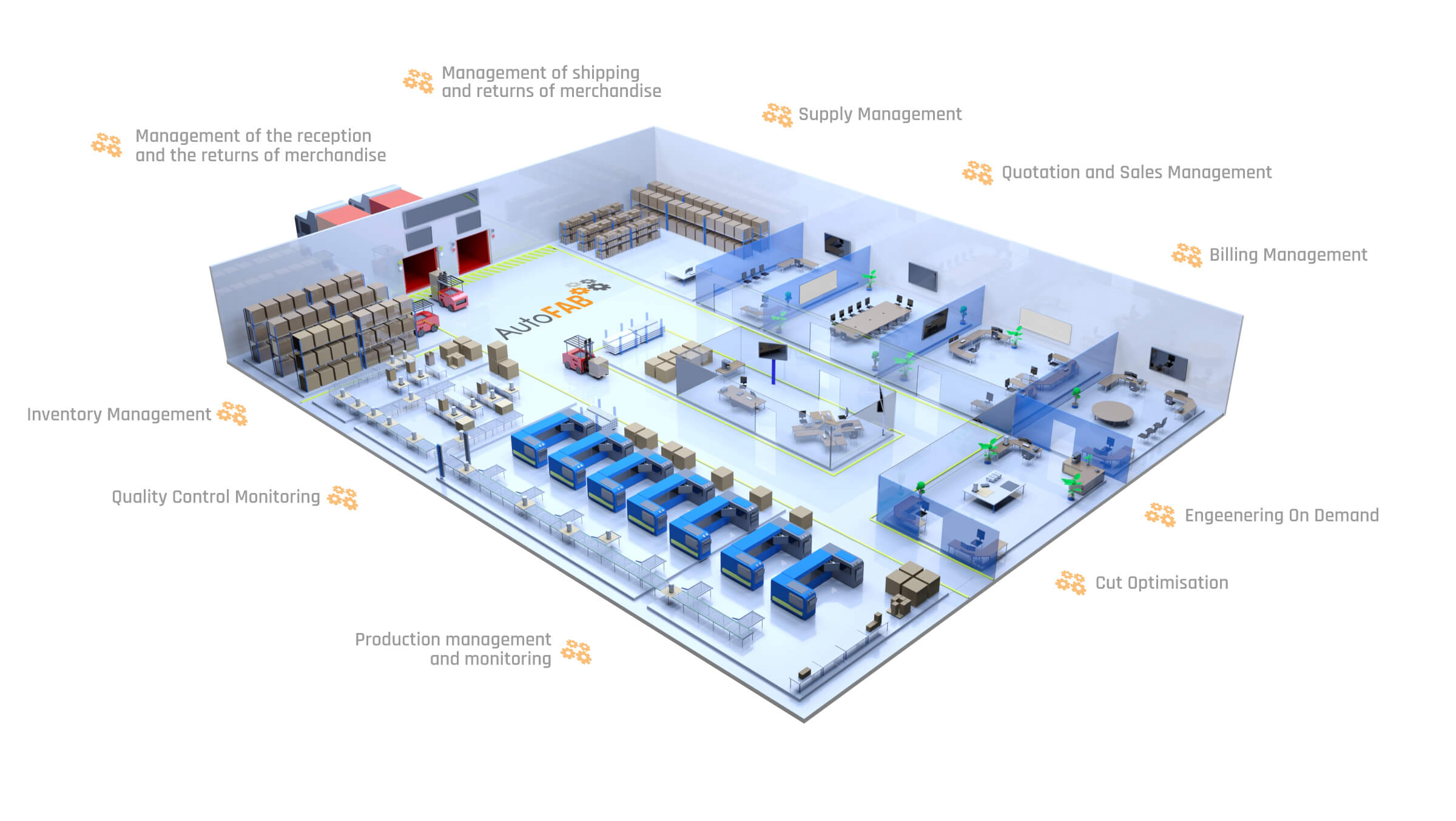 Supply Management:
Effectively coordinate the management of your purchases, your inventories and your production. Avoid any stock shortage and quickly honor orders of your customersa.
Quotation and Sales Management:
Easily respond to your customers' price requests with simple, flexible tools or with the automated recipe creation from the Product Configurator.
Production management and monitoring:
Be efficient and effective! Offer multimedia support (text, photo and video) to your production staff. Effectively track the entire evolution of your production inside screens adapted to your business needs and your production equipment.
Inventory Management:
Make sure to keep your assets immobilized as less as possible and rotate your inventory effectively.
Management of shipping and returns of merchandise:
Optimize the shipping of your finished products and reduce the time of handling and search of your merchandise.
Management of the reception and the returns of merchandise:
Be ordered! Guide the receipt of your goods efficiently to ensure proper distribution to the production and storage areas.
Other options :
The AutoFAB management and traceability software package gives you access to several other specialized modules and enables quick and easy integration with a multitude of specialized equipment and software.
Effective control of your manufacturing production.
For more than 25 years, the Quebec company N.B. Automation specializes in the design and development of management solutions for quality control and traceability.
AutoFAB is an intuitive solution that facilitates the day-to-day work of managers and employees of manufacturing companies.
N.B. Automation's dedicated manufacturing team understands your reality and is fully available to meet the specific needs of your industry.
25 years of bringing tangible results with our solutions.